As the group of 85 participants and sponsors became inspired in Chicago at the July 2011 Come Alive Outside Event, many went home and set the wheels in motion and most got to share the message as they toured Millennium Park through interviews and a genuine interest in the logo on shirts and enthusiasm of the group. Here are just a few examples we have heard about in the three days since the event: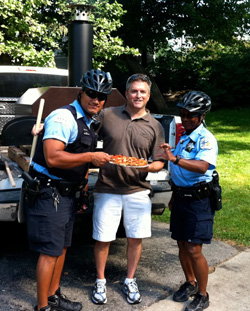 Bill Paschen, president of Chicago Brick Oven, represents the essence of the message of Coming Alive Outside. He and his team not only fed 85 enthusiastic contractors in Grant Park July 14th, he also made friends and fans of a few off-duty Chicago police as they came by to check things out.
Nick DiBenedetto reported connecting with a great new sale this week and said the Come Alive Outside message was a major part of that sales closing conversation as he promoted a lifestyle not a landscape. A news reporter also followed up from Nick's initial contact to schedule an interview this week about how his company is sharing the vision to Come Alive Outside.
Gary Ross, Belgard Sales manager in Florida, is connecting with all of his dealers and contractors to make sure they have the Come Alive Outside logo and message to share with customers.
After teaching participants about knowing how to give an "elevator speech" about the Come Alive Outside message, Jim Paluch had the perfect opportunity to try it out himself in a Blackstone Hotel elevator as 3 men in business suits asked about the logo on his shirt to Come Alive Outside. As he got off he heard one say, "That's pretty cool!"
As participants interviewed the public in Millennium Park, the Oprah Winfrey Network interviewed them to find out what this Come Alive Outside thing is all about.
Todd Stout of Perfection Landscape says, "I did a 10-minute presentation on Come Alive Outside yesterday to a networking group that I belong to and the engagement was incredible. I put together a slide show and spoke about childhood obesity and diabetes. The room was electric!!!!!! Members were speaking about their childhood memories and the activities they have planned for their kids or grandkids. They were all very appreciative of the effort that our community is putting into this cause."
John Foegley of Foegley Landscape in South Bend, Indiana, has already started the development of a Come Alive Outside website for his company and is in the process of introducing the concept to local municipalities.
Tony Sellers of Sellers Services in Rochester, Indiana, is preparing to make a presentation to his city council in the upcoming week.
A recent conversation in Chicago proved to generate real interest with a major health care facility seeing the connection between health and fitness programs and the movement to Come Alive Outside.
Sebert Landscape in Chicago is brainstorming a way to provide long-standing corporate clients with their own space to Come Alive Outside.
Numerous companies are sharing the Come Alive Outside message through their social marketing networks and including the Come Alive Outside logo on their websites.
Lots of little things are adding up to creating a great awareness. Tell us how you will help yourself and others Come Alive Outside!