We never know which of our crazy ideas to inspire readers will grab your attention, but it was evident from the start that people like to talk about their dogs. For some, our canine friends not only help us Come Alive Outside, but they help us come alive by literally pushing us out of bed in the morning. We read about a successful business woman and busy mom learning to stop and get outside with her children after work simply because the dog would have it no other way. We learned of unconditional love and a chin on the leg showing strange understanding of what the master needed in that moment. We read of soft fur absorbing tears and canine companions that make us laugh and play and even run in the rain … endless ball throwing, toy chasing, hide and seek … jumping into puddles and splashing through muddy paths … football Saturdays only complete with halftime kicks and passes to the family dog … chasing and catching squirrels that were set free on command … a sick girl learning to laugh and function normally again with the help of a puppy … walks in the park, chatting with neighbors sharing a common task to exercise the dog and then what better than a fantastic nap warranted by good old-fashioned exhaustion from playing outside!
The winner of the contest is Laurie Paquin writing about her mother, Carole, and you can read her story below expanded from the limited length of the contest entry.
My Mother's Passion by Laurie Paquin
My mother's house is always full of dogs. She has three of her own and adds to that a constant string of rescued dogs and short-term boarding dogs. Her house literally erupts at the sound of an arriving car, a knock at the door, or a squirrel running past. She lives and breathes dogs, dog-people and doggy-events. She is now 71 years old and her passion is dogs. This "passion" was not found simply by owning and living with dogs – she discovered, or perhaps saw a glimmer of what was to become a passion, it 14 years ago. It was the summer she broke her ankle. It was the summer she discovered "dog agility."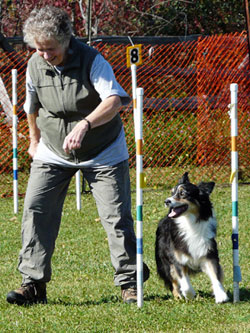 I was at work when I got the call that my mother was being transported to the hospital and that she'd "injured" her ankle. You would have to know her to know that this does not seem improbable, odd perhaps, but not out of question for a woman who is both driven, and reckless. The question this time was how? And doing what?
That day in August she slipped on wet grass while running with her dog during an agility lesson. She'd attempted to do the splits (as the result of her slip – not a requirement of dog agility) and when this wasn't possible, her ankle gave way. Once again, you would have to know her to know that something like a broken ankle would be seen as anything other than a challenge. She was mad and she would not be defeated. She soon recovered and signed up for more lessons. She took every workshop offered. She booked church basements for practices. Her dogs, a crazy Australian Shepherd and a tenacious terrier, loved it. She spent her money on agility trials – where you can see your entry fee go up in smoke in as little as several seconds when your dog misses an obstacle or pees on the grass. She was slowly gaining a position in the agility crowd – a group of women, for the most part, who are all as crazy as their dogs for agility.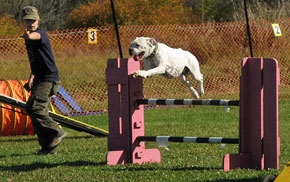 Agility is a sport aimed at people and dogs who want to get out and have fun. It involves a series of obstacles arranged as a course that the team, handler and dog, run through in a particular sequence. It is timed and the fastest time, with the fewest faults, wins the class. It is one of those sports that everyone with a dog looks at and says, "Hey, I want to try that!" It is at that point, the point where one tries it, that it becomes obvious — it is harder than it looks! There are techniques to get your dog to pass behind you, in front of you, to spin, to loop and to come to a momentary stop – and these actions are done while both the dog and handler are running, most times, flat-out. The hardest part of all is remembering the course layout as you and your dog move through, around and over, the obstacles. I will testify that, no, it is not as easy as it looks.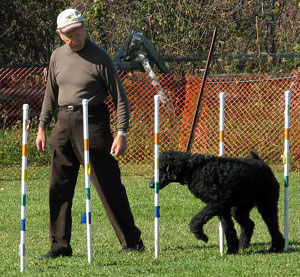 My mother retired from her job as a teacher and moved away from the city. She left her social circle but remained passionate about her dogs and her sport. She was soon welcomed into the local circle of dog-sport enthusiasts where she took more lessons, competed in more trials, organized her own trials and taught handlers and dogs. What may have been a lonely transition, while she settled into her new neighbourhood, was instead an active and rapid inclusion into a social group revolving around dogs. She is an active member of a fly-ball team (another doggy sport), she competes at Rally-O (a sport similar to dog obedience) and, of course, continues with her love of agility. It is a rare event to call her on a weekend and find her at home. She is either taking a workshop, involved in a trial, or off at a dog-friend's place-possibly training, but more likely celebrating.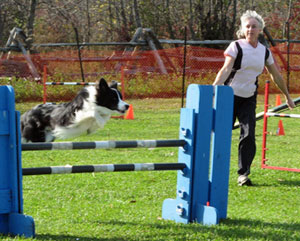 You'll know her to see her drive by: her van full of crated dogs happily anticipating a swim, an agility trial, a rally-o lesson, or a stimulating wait in the vehicle while she checks out local bargains. The dogs don't care. They are as happy to wait in the vehicle as they are to compete with her at a scheduled event. Dogs do not care where they go – as long as they go. She is their ticket to excitement and they have been hers to a life full of activity, fun and friends. I can't imagine a better outcome to a broken ankle.