It is always a pleasure to have Dr. Bob Maurer, author of One Small Step Can Change Your Life, as a guest speaker on a teleconference, webinar, or event, and the webinar we held for the A Better Way community on Monday was no exception. We are sharing a recording of that webinar with you so you can get some ideas about the power of taking small steps and asking small questions that can make lasting changes in your life, including changes that will help you to spend more time outside.
The webinar focused on taking small steps, asking small questions, giving small rewards and the power of mind sculpture. A few of the quotes referenced in the webinar are listed below:
"Far more often, innovation doesn't arrive like a thunderbolt. It emerges incrementally, in bits and chugs, forged by a mix bag of coworkers from up, down, and across an organization, sweating and wrangling it out in the trenches. Glamorous, hardly. Powerful, absolutely."
– Jack Welch, past CEO, GE
Business Week, April 21, 2005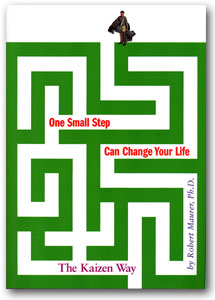 "My players would probably tell you they never heard me mention winning. I don't think scores indicated you won or lost. I want them to work each and every day to improve themselves."
– Coach John Wooden
"Turning towards your spouse in the little ways is also the key to long-lasting romance. Many people think that the secret to reconnecting with their partner is a candlelight dinner or a by-the-sea vacation. But the real secret is to turn toward each other in little ways each day."
– John Gottman
Click here to order a copy of One Small Step Can Change Your Life.
Click here to read our People Solutions Newsletter featuring Dr. Maurer's book.
If you would like to become a member of the A Better Way community so you receive notices of all future webinars and events, please click here to get the membership registration form.