Small Choices for Big Solutions
"One of the characteristic diseases of the twentieth century is the suspicion that we would be greatly improved if we could be somewhere else."
– Wendell Berry
Stop just for a moment and read that quote one more time. Possibly a simpler version of that quote is "The grass is not always greener on the other side." The mistake of thinking our place or circumstances or misfortune or career path is the reason we have not accomplished all that we feel we were put on this earth to do is a chain that will hold us indefinitely to that excuse. How sad it is to convince ourselves that if we could only . . . or if this would just happen . . . and if I did not have the burden of . . . then I could really make a difference or reach the level of success that I know I'm capable of. The truth seems to be that it's not the circumstances that set the course for success, but the willingness to accept the responsibility for our place and work to make the most from it.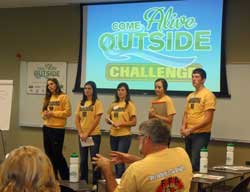 Personal accountability has always been and will continue to be the thing that we admire most in every person that has ever accomplished anything. The problem is when we fail to recognize it as such. Yet the instant we realize that it was a person's choice and personal responsibility to act and not their circumstance or place that then true inspiration comes followed by the desire and belief that we can do the same. Wendell Berry offers up another bit of wisdom that we should consider as well-meaning human beings, "We have been fooled into thinking that every big problem has a big solution. The big problems are going to be solved by hundreds of people accepting local responsibility for small problems. Let's work hard at finding one sentence that can define the job we need to do then go out and do it."
Individuals accepting responsibility to make their communities better, their work more enjoyable, their family stronger, and their communities vibrant places to live, will not happen through enormous undertakings. It will be leaders without titles quietly moving forward with small, yet significant actions that will make the difference.
The Come Alive Outside Challenge

During the week of March 19, we gathered on the campus of Kansas State University over several days that allowed us to experience leadership and acceptance of responsibility. Our first experience was with 14 FFA CHAPTERS from around the state of Kansas that came together to participate in an initial step of the Come Alive Outside Challenge supported by a great team from JOHN DEERE, business owners and PLANET, the national association for the landscape industry. The agenda was set to inspire this young group of leaders from the Midwest to take action on their Come Alive Outside Community projects that they had designed. What actually happened was they inspired us.
Every one of these FFA members and the Kansas State Horticulture students who have volunteered to be their mentors were all focused on showing the actions Wendell Berry speaks about above. As individuals, they were coming together to form a team and offer small solutions for the communities where they live that will have a large impact on the people and places within those communities. Students presented a variety of projects that dealt with getting elementary students outside and just learning to play or community gardens that they would help people tend and learn about growing their own food. They have plans for 5k races and family outdoor game festivals, improvements to senior centers and helping to create awareness in the other high school students to accept responsibility and help others Come Alive Outside. There were many great business leaders and professionals engaged throughout the day giving feedback and advice, but each of us found ourselves learning more from these students and the attitude they brought into the room than they could have possibly learned from us.
When asked at the end of the day if this was a unique and special day, one of the FFA Chapter advisers simply said, "No, it was just a typical FFA event. Something special is always happening around this group of future leaders."
I'm sure you will hear more about how the Come Alive Outside Challenge projects come together and turn out as each of the FFA Chapters interact with their communities in the next 2 months and share the vision to Come Alive Outside.
You are welcome to join in the Come Alive Outside Challenge Facebook Group and follow check out some of the videos that have been posted there.
Update on 5/15/12: The voting for the video documentaries has now started. Click here to place your vote.