In March 2012, we introduced our readers to what is known as the Come Alive Outside Challenge sponsored by our friends at John Deere. Since the introduction of our idea to all of the FFA educators in the state of Kansas in April, nine chapters of high school students both took the challenge and then followed through to create and facilitate some sort of Come Alive Outside activity in their communities. We knew the potential was great when we gathered at Kansas State to kick off the CAO Challenge, but it is what these young people have done from that point that proves we have a movement and "EVERYBODY WINS WHEN SOMEBODY GOES OUTSIDE!" You will see their creativity, initiative and the leadership skills to actually execute ideas and positively impact hundreds of children and adults throughout Kansas when you watch the videos they produced. You can even vote on your favorite to help determine which chapter and K-State mentor will receive scholarships from John Deere.
But first, be sure to read a few lessons learned from the college students that volunteered to mentor these teams and help Kansas become the first state to Come Alive Outside!
– Beth Paluch
Refreshing Perspective
Emily Frasier
Kansas State Mentor, Louisburg, Kansas, FFA Chapter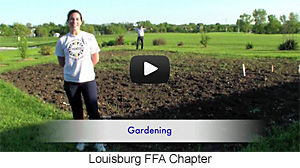 Imagine about fifteen years ago a large sand pit, a swing-set, a climbable tree, brand new litter of kittens and old pots and pans. That was where you typically found me during the day, outside playing. Granted, I did grow up on a ranch and had more incentive to go outside and be with my dad. But I would itch to go outside and breathe in fresh air, play with the cats and play around the barnyard. Part of that motivation started with my parents who gently nudged us to go play outside. It may have been their way of getting some time alone inside to get things done, but also they too grew up playing outside so that is what they knew. Sadly, the generation younger than me does not have the notion or motivation from their parents/guardians to play outside, or do any activity outside for that matter. Part of it is due to the lack of safety of children playing alone in the streets. Also the society is going at a much faster pace than say 20 years ago with technology and faster transportation being a big influencing factor. Children are engrossed with the latest technology, which includes, cell phones, video games, TV, etc. And parents are spending less time playing with their kids or engaging in outdoor activities and are working odd hours and resort to fast food to feed hungry children due to lack of energy to fix a healthy meal.
Something needed to change, and luckily the Come Alive Outside campaign came into existence. I have the privilege of mentoring the Louisburg FFA Chapter. The day that we all met up at Kansas State was a glorious day filled with excitement as we put our heads together to create and promote new ideas with each other. It was great to see all of the excitement and enthusiasm that these students had and my K-State peers, JP Horizons, John Deere and some great contractors were all there to support and enhance those ideas. I observed the Louisburg Chapter and they seemed to be confident, yet open with their ideas to promote the campaign. They started a garden filled with vegetables to share, as well as hosting a tent event where they gave away 600 trees to the local community. Along with the trees, they provided brochures filled with useful information promoting outdoor activities. They also took time to experiment with different types of composting, and set up recycle bins in various locations. All of these activities were to support and educate people about fun outdoor activities that promote healthier, resourceful lifestyles. A healthy lifestyle that is proactive and gives people more energy and joy within their lives.
Hope for the Future
Brooke Stamm
Kansas State Mentor, Centre FFA Chapter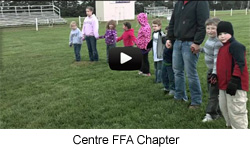 The best thing that I have learned from this mentoring experience thus far is that a small group of dedicated people truly can accomplish a great deal, and that the fulfillment of working with other ambitious youth is a feeling that cannot be easily replaced. By heading up this Come Alive Outside committee, these FFA members have learned leadership and public speaking skills that will greatly improve their future education and career. I am proud to be able to be a part of that experience with them. FFA has already taught me so much more than I could have ever imagined, and this project by JP Horizons has shown me yet again the impact that young people can have on our world. It is so rewarding to see the potential in young adults that are reaching for their goals. That kind of potential motivates me to set my own personal, educational, and career goals.
Organize, Delegate and Learn to Let Go
George Dille
Kansas State Mentor, Rock Creek FFA Chapter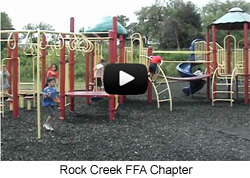 Outside. That is something that the world is slowing avoiding. Video games, television and cell phones are taking over people's lives. Growing up, I spent my entire weekends and evenings outside. I remember thinking a good day was when soil was caked so thick on my knees that my mom had to take a putty knife to my jeans to clean them.
When Jim Paluch came and spoke to my college, I was ecstatic. Finally, an event to reach out, and take people back outside, where kids fall down, knees get skinned, plants grow flowers, and people remember how it feels to truly feel alive.
When it came time to plan the details, I thought I would be able to lend my help much more than I actually could. But due to my schedule I became very busy, and was not even able to make the two events the students planned. As I tend to be a micro manager, I was very worried that things weren't going to be planned out, and that something would be forgotten. Through this process I learned to relax, and let the leadership do their work.
Organization is something we all can work on. Trying to plan the event, in this short time span, produce a video and still remain in school took a tremendous amount of organization. Not only did the Rock Creek students stay on top of their work, they used their resources and produced some really top quality work in terms of the two play days and video. The chapter learned what they are capable of.
Fun Outside for Everyone!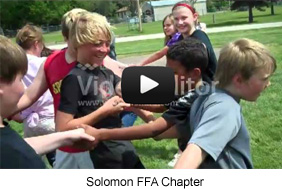 The best thing we learned from the Solomon FFA Chapter Come Alive Outside Event was how much fun it can be to get a group of excited and energetic kids outside to play. One other thing that most of the FFA members learned through this activity was that they enjoyed being outside just as much as the younger students. Some of the members spent countless hours playing video games or watching movies, but not many were outside each day. After this activity, countless students were ready to go fishing, camp, and play baseball. This activity has even prompted the students for FFA activities this summer that include being outside. We are considering community services like helping the school paint lines on the parking lot to having a member's only camp out.
We have thoroughly enjoyed taking part in this program. It has made us all remember our childhoods and even as high school students made us want to go outside and enjoy time with friends and family. We look forward to continuing this initiative next school year and many years to follow after that.
The Skeptic Inspired
Logan Britton
KansasState Mentor, Ell-Saline FFA Chapter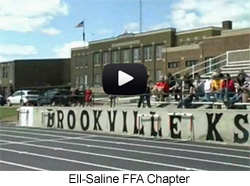 At first, the Come Alive Outside Challenge seemed unrealistic to me. I had the preconceived notion that members would have trouble coming up with a plan and hosting it in a few short months. Additionally, our generation has the stereotype of being lazy and apathetic about the world around us. I doubted FFA members could step up to the challenge. I'm glad they proved me wrong.
I was also hesitant to sign up to be a K-State mentor. I thought I had left my blue corduroy jacket behind and wouldn't touch it again for the rest of my life. I thought to myself, "How could I help? What am I going to bring to the table?" I am glad I chose to participate or I would not have had this wonderful experience.
It's a Habit More than Choice
Alexis Wingerson
Kansas State Mentor, Newton FFA Chapter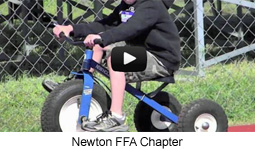 The true value of this program struck home for me while eating lunch with the participants. One boy asked me, "Is there a computer I could play on?" Somehow, even in the midst of so many peers to enjoy the outdoors with, his mind was still on his video games. I now realize the magnitude of the issue of kids not getting outside is one of habit. This generation has grown up with movies, video games, and computers as a pastime. It's not that they don't have fun outside; many of the kids could barely contain their excitement at getting to play and use their outdoor voices.
Children can discover that having fun outdoors is something they can do anytime and enjoy much more than sitting on the couch. The Come Alive Outside project is a tool that can help us understand why we need to be out in nature and not watching it go by through our windows. I wonder how many people were impacted by the success of the event. After all, even being so involved with the planning, I didn't comprehend the significance of this project until I saw it with my own eyes. Everyone truly does win when somebody goes outside, even those involved in teaching the concept to others.
Our Responsibility to "Ignite a Revolution"
Tiffany Poet
Kansas State Mentor, Uniontown FFA Chapter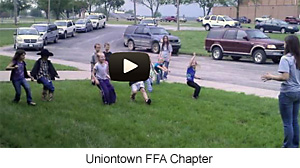 I will be graduating with a degree in agricultural education, and working with this group of FFA students reminded me why I want to teach. They not only taught the Uniontown youth and their parents but also me. The two ladies that presented at the workshops engaged and inspired the next generation as they taught them using an acronym: E.G.G. Eating healthy but also Exercise, Games and Gardening. No matter the age group, they were able to remember the acronym and the activities that were associated with each letter. I learned that it is the responsibility of each person in a family, school, or community to make sure the next generation gets out and has the chance to scrape their knees and get dirt under their nails. The doors to the outdoors and good health need to be opened, literally, to this upcoming generation. My chapter reminded me that it was a challenge we are charged with wherever we are and whatever our position.
The members of the Uniontown FFA chapter showed me the power that one inspired and motivated person can have. As Jack Kemp said, "The power of one man or one woman doing the right thing for the right reason, and at the right time, is the greatest influence in our society." I hope that I saw a spark in both the students in the chapter and the youth of the Uniontown community that will ignite a revolution in the way students spend their time: to turn off the TV and exercise, play games and garden.
Student Videos of the CAO Challenge!!!
Part of the Come Alive Outside Challenge criteria was for the competing FFA chapters and their K-State Mentor to create a short video documentary of their actual Come Alive Outside project. You will be impressed by their creativity, appreciative of their efforts and inspired to COME ALIVE OUTSIDE!
Click here to see these fun videos and vote for your favorite…