It's A Magnet
Anyone who has ever walked outside with a child after a rainstorm knows that puddles are like magnets. Even if there is only one small puddle on the whole street, children have a knack for finding it and getting as wet as possible in it. From the parent's perspective, which is centered on doing the laundry and the risk of runny noses, this impulse to splash around might get written off as naughtiness. But, I think it goes much deeper than this.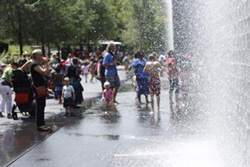 As I travel around the country, I love to spend time in all of the amazing parks and outdoor spaces, from Chicago's Millennium Park to Boston Commons. Without fail, when a park has a pond, a fountain or some other type of water feature, it becomes the center of attention. Some people just sit and look, seeming to get lost inside themselves as they listen to the sound of the water moving. Others dip their toes and fingers in the water without thinking. Elderly couples sit on benches, holding hands and looking at the wind blowing over the water. And of course, wherever there is water, there are children, either splashing around or getting scolded for having just done so.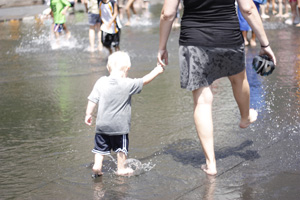 Over the years we have added several water features to our landscaping at the Paluch household. There are few things that I enjoy more than sitting in the garden in the evening, watching the fish and listening to the water babbling away. Some of the most special memories in our gardens have been when children are visiting, and we spend hours around our small ponds, feeding the fish, looking for frogs and watching water bugs skate around.
These days, we hear more and more about how children's attention spans are growing shorter. ADD is a household name. So how can a young child stay entertained by a small pond for hours on end? Ponds are an ADD paradise! There are no less than a million things to see and hear and touch: How many fish you can find? If you get tired of looking for fish, try to catch a frog. If you get tired of frogs, run around like a dragonfly. When you've chased all of the dragonflies away, make a boat out of sticks and leaves and see if it floats.
Feed Your Wild Side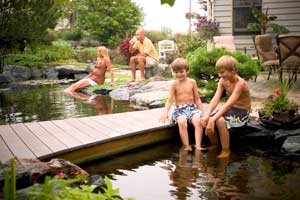 The flurry of activity that seems to gravitate around ponds and fountains suits the less tame side of our own minds. The urge to notice and get distracted by a million different things can be perfectly irritating when we're sitting at our desks trying to get something done.
When we're sitting in the garden or walking around a pond, this same urge creates quite the opposite effect. It feels natural. Our senses are free to roam between all of the sights and sounds, and our brain's ability to bounce between different things becomes a source of inspiration and peace.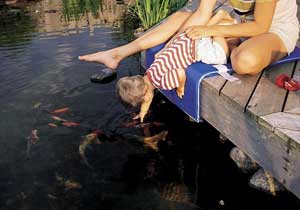 The Come Alive Outside movement was started because so much of our time is spent walled off from the outdoors. Children and adults end up starving this side of themselves that just wants to play, roam and wander around. Not only that, we learn to stifle this side of ourselves that thrives when we are exploring the world in an unstructured way. Think how much happier we would be and how much healthier our children would be if we had more places that allowed us to focus on everything and not just one thing.
Invisible Barriers
According to a recent study by the Neilson Company, Americans spend an average of 5 hours a day watching television and a total of over 8 hours looking at some sort of electronic screen. It's easy to see the negative impacts of this type of sedentary lifestyle, from rates of obesity to diabetes and depression. It may also be tempting to demonize the devices that soak up our attention and leave us with no time and interest for Coming Alive Outside. But, lately I've been thinking about some of the invisible barriers that keep us inside on the couch rather outside in the yard.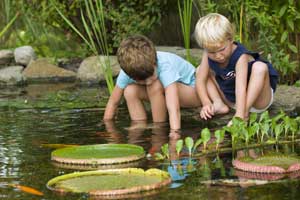 Most American yards are not designed for living in. Most landscapes are designed to look at and walk through on your path between the driveway and the house. Well-kept lawns are as American as apple pie, but lawns are not really built for living in.   If you're not running around playing tag or football, lawns become boring pretty quickly. In a recent webinar we talked with Greg Wittstock, the owner of Aquascape, about how to remove these barriers. "Water features will suck people outside like a vacuum cleaner and deposit them in their backyard for hours on end. They won't sit there for hours on end and watch their tulips grow."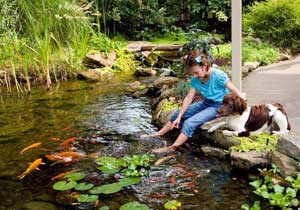 The nature of our yards and landscapes are just one of the invisible barriers that keep us inside, and water features are just one of the many solutions for removing them. How do your actions as a business, a parent or a member of your community help to remove some of the barriers that keep people from Coming Alive Outside? What are some other larger barriers that keep us from interacting with nature on a daily basis?
Removing the Barriers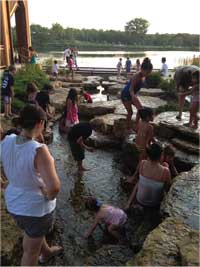 Greg Wittstock shared a story about a project that Aquascape created to enhance the Pottowatomie Park in St. Charles, Illinois, and remove the barriers that were keeping people from enjoying the Fox River. "[In downtown St. Charles], you cannot access the river." The river is neatly barricaded off and surrounded by concrete embankments all the way along its path through the city.   Aquascape designed and installed a water feature that pumps water out of the Fox River and recirculates it through an 80-foot long stream and waterfall before going back into the river.
It has created a place for people to interact with the river. Greg says that every time he's in the park, it never fails that there are people splashing around and enjoying themselves. So often, all we need is the opportunity or the place that allows us to indulge the side of ourselves that is just waiting to Come Alive Outside.