REALIZING THE IMPORTANCE OF WHAT YOU DO!



Scott Jamieson, VP of Bartlett Inventory Solutions, Bartlett Tree Experts
Date: Monday, January 28, 2013
Time: 3:00 p.m. Eastern Standard Time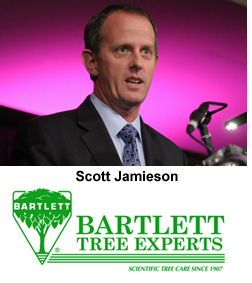 There is nothing more satisfying to a person than to realize that the work they are doing is helping someone. It really does not matter if a person is making biscuits or making brakes; one helps remove hunger, and the other helps a family return home safely. The challenge we all face is that too often the demands of our day-to-day workload can hide the difference we are making. We may not all have the same unique privilege that Scott Jamieson and his co-workers at Bartlett Tree Experts had as they re-planted trees at the 911 Memorial at Ground Zero and helped to preserve one very special tree that remained even after the devastation, but his story will help to see the potential in all of our work. Scott has agreed to tell the story behind this special project and to discuss:
What impact a special project can have on those doing the work.
What we can learn when we stop to observe the impact of our work.
How to become involved in Community Projects as volunteers and as meaningful business opportunities.
How the 911 Memorial Plaza changed his view of what he does and what all of us can learn from it.
Most importantly, where can we find this same inspiration on a day-to-day basis to help ourselves and our team.
The discussions that will take place in this webinar will help everyone realize that the work we all do makes a difference.
If you missed the live webinar, you can watch the recording below:

What Makes Work Meaningful?
We asked participants in today's webinar the question, "What makes work meaningful?" and below are some of the responses they shared with us:
Solve a problem and meet an expectation for a client through providing a quality, fair-cost solution solution to meet their needs that they will enjoy for many years
Creating a beautiful outdoor living area
Serving others
To hear customers say they really appreciate the extra space in their yard and to see the smiles on their faces.
Creatively responding to an individual's wants and needs in a way that respects natural, social and economic resources.
The excitement of the client about the work we create during the process
Produce a service that pleases people, builds self-esteem and preserves our environment
Responses to Exit-Webinar Survey Question: Is global warming a reality?
Yes – 63%
No – 30%
Undecided – 7%
Many of the people who answered yes wanted to clarify that they believe in climate change and that global warming is part of that.